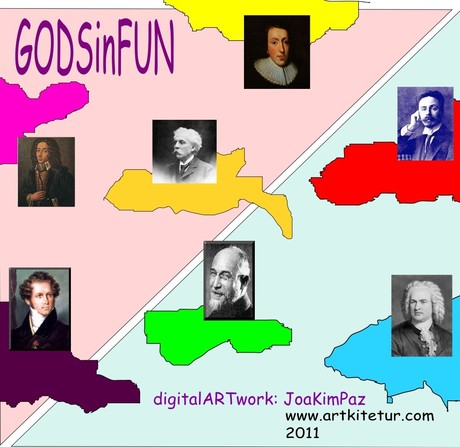 This should be one of the most exciting funny tracks you can find in our new production : 7HEAVEN , which has been released lately and made avaiable for full streaming at www.reverbnation.com/godsinfun as to BUY/DOWNLOAD from DIVINErecords on-line STORE at http://stores.lulu.com/joakimpaz
7 has been considered as the number of perfection, number of invulnerability, number of excelence. This new project appears as a complection to our sabbatic day of relaxation, the 6th previous (The Divine Right to Laziness)so... we decide to invite some of the best musicians of all time to join us in this new journey where we are going to discouver and bring a new fresh feeling to their unforgetable music.
With all our gratitude to Eric Satie, Scriabin, Pergolesi,J.S.Bach,John Milton, Gabriel Faure', and Bellini.
ENJOY.......